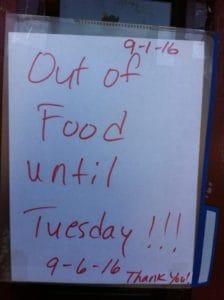 Unfortunately this really was the sign that met clients at the Social Services door a week ago Friday.
Why? What happened?
It's all in the numbers – new clients are up, homeless clients are up, and total clients are up. At the same time, our deliveries from the Arkansas Food Bank have dropped significantly.
On Thursday, one of our less busy days, St. Francis House served 114 people, 30 more than average for that day. By afternoon, food commodities were gone. Our allotment of meat has been cut to 400 lbs – 200 food bags; only 200 families. That lasted one day. Canned goods available from AFB have gone down by 2/3rds. And anything we need to supplement, we must buy.
Due to the generosity of our some of our Facebook followers, extra donations allowed us to buy additional food to last the past week, but numbers of people served remain high and this was only a four day week.