At St. Francis House, we recognize that you are partners in our ministries, and we rely on your generosity. As Christians, we are all called to be the hands and feet of Christ, and at St. Francis House, we are acting as your hands and feet while providing the compassion and care that comes from your hearts. That's why we try to make it easy to give!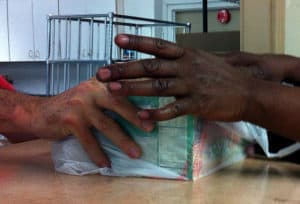 Through the newsletter, our Facebook page, or directly from the Give page of our website, you can use a credit card or your PayPal account for a one-time or monthly recurring donation.
You can also arrange to make a donation from your bank account by emailing stfrancis72204@att.net and requesting a Direct Debit form or by downloading the form.
Are you an Amazon shopper? Join Amazon Smiles and designate St. Francis House Inc. as your charity. Then shop through https://smile.amazon.com/ to generate smile dollars.
Is your employer a United Way participant? If so you can give to St. Francis House through your company's United Way program.
And of course, you can always send a check to St. Francis House, 2701 S. Elm Street, Little Rock, Ar. 72204!
We're working hard on other ways you can give, so look for more ways to help St. Francis House in the near future!