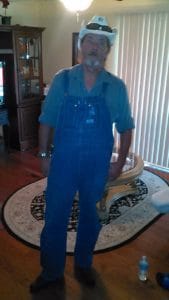 Today Harry Willis has his own non-profit, Helping Homeless Home, which provides furniture and housewares to those returning home from homelessness. He knows about the hardships of that journey; he's been there.
After leaving the Air Force, Harry married, raised a family, and began a civilian career as a nurse. After the children left home to begin their adult lives, he and wife divorced.
Then in 2005, a motorcycle accident left him unable to continue nursing. "All at once, I lost my identity. I had been a husband, a father, and a nurse – now I was nothing. It seemed better to have any identity, even that of a homeless, drug-addicted alcoholic than nothing."
Harry was on the streets for five years. The Compassion Center in Little Rock was his first step on the journey home. He completed their 30 day Sober Living program but still had health and mental health issues to work through. He transferred to St. Francis House in February of 2010.
During his stay he worked with VA doctors to find the correct medical regimen, and St. Francis House staff to get his legal affairs in order. Harry left St. Francis House in July 2011, another step on Harry's journey home.
One day he got a call from Kathy Lester at The Canope Apartments where he lived. Someone had moved out and left behind furniture. Did Harry know anyone who could use it? Harry had kept in touch with St. Francis House and his "brother and sister vets" and knew another veteran who was moving into the same apartment complex. The used furniture found a home and a fellow veteran now had his home as well.
More phone calls, more furniture left behind, more veterans helped, and soon Harry had a new vocation – helping others who had been homeless make a new place to live into a home. Another apartment complex, Chenal Place, began sending furniture his way. He bought a truck to move furniture and a local church gave him a storage unit. When his truck was stolen, St. Francis House was able to help him get another.
Harry incorporated Helping Homeless Home as a non-profit in 2014. So far he has helped over 180 people with furniture and household items, and his client base has moved into helping not only veterans, but clients from Our House as well. He also takes clients with no transportation to doctor appointments, monthly grocery shopping, and food banks when they need it.
Harry describes himself as, "Just a soldier working to give God the Glory." Because his income comes from disability and other government resources, he likes to say, "I'm living proof that God can even use Caesar to save a man."
Harry is often found at St. Francis House bringing furniture for a fellow veteran that is on the journey from homelessness to home. Thank you for all you do Harry, and we're proud that we played a part in your journey home.
Learn more about Harry's ministry Helping Homeless Home.