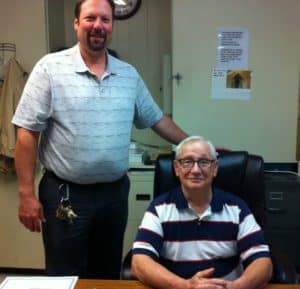 St. Francis House is blessed with wonderful volunteers, and we'd love for  you to join them!
Don Deams, pictured with Ken Mace, Director of Veterans Services, is a long-time front desk volunteer. "We answer phones, direct calls and sign the veterans in and out. That's my favorite part, getting to know the veterans who are staying with us. I joke around with them and see how they're doing. I've been involved with  St. Francis House for years. Good things happen here."
You can be a part of making "Good things happen." Right now we are in need of front desk volunteers from 2-6 pm Tuesday, Thursday and Friday afternoon and 8-12 am the 2nd and 4th Fridays of the month.
Volunteers can work weekly or bi-weekly depending upon your availability. Please contact Linda King, Outreach Coordinator, 501-313-5047 for more information.