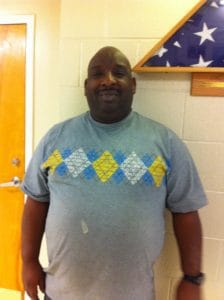 Leslie Roby has spent his life keeping America safe. He was an infantryman in the Army from 1980-1985, and upon leaving the service, he began a career in security.
Leslie has been an armed security officer for several government facilities including the Department of Corrections and Juvenile Detention. When he had to resign his job at the Department of Corrections for personal reasons, he ended up unemployed for six months.
Leslie fell behind on his bills and eventually lost his home. He called the Crisis hotline and was referred to the Day Treatment Center. He had found a job once more in Juvenile Detention, but he still to had to pay off bills and find a new place to live. And that's how we met Leslie.
He entered the St. Francis House program in April 2016 and immediately began working with Carol Chastine and Ralph Bellamy in the Re-integration program, a program funded by the Dept. of Labor to help homeless veterans find employment.
Leslie wanted a position with not only more income but also more responsibility and more opportunity to use his hard-earned skills. "At first I was embarrassed to be be here," Leslie said, "but the staff showed me differently. You have to dedicate yourself to a new start, and if you're serious, this is a good place to start over."
Leslie was obviously dedicated to that new start. "Leslie wanted to find better employment and in his field that meant Federal. Even when we had to go through packets and packets of paperwork, he never got discouraged. Never gave up. He came in ready to go and never got discouraged," observed Carol.
Leslie left St. Francis House in October 2016 with a new job as Armed Security at the Federal Building with his bills paid off and a new place to live. He continues to drop by about once a month to keep us up to date on how he's doing. He was recently placed at the Hot Springs facility, a position of trust since he is the only Armed Security at that location.
"The job program is a great success. Myself and others have gotten a new start. Carol and Ralph really care for you and want you to succeed." Thank you, Leslie for your continued service!