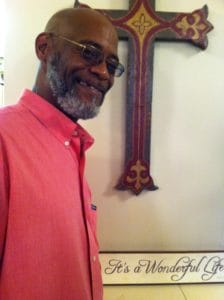 Robin Harris knows life from both sides. A Navy Veteran serving as a boiler technician from 1985-1989, he's no stranger to hard work and discipline. After leaving the service, he worked as a delivery driver and life was good. But a few poor choices put him on the other side.
Robin began using drugs and eventually fell into heavy addiction. "That began a downhill spiral," says Robin. "I couldn't keep a job. Spent some time in jail. Even simple things were harder to achieve." Robin realized he didn't like that lifestyle and tried to get clean. "But I didn't really understand what I was looking for. I still wanted to indulge and hadn't really gotten honest with myself yet."
Last year he was referred to St. Francis House through the Veterans Day Treatment Center. "This time I took an honest look at things and realized my shortcomings. I went to my meetings, got a sponsor, and worked with the VA and St. Francis house staff. I got a job, a place to live and completed the program at St. Francis House successfully."
Robin has stayed clean and sober since then. He has kept his job at the Social Security and Disability building and life was looking up. He had spoken with his landlord and let him know he would be moving out when his lease was up. He was ready to move into a better place. Unfortunately, the landlord refused to give him his deposit back when he left, and he couldn't make the down payment for a new place. Robin called St. Francis House.
Because he had completed the program successfully and had not had problems in the last year, Robin came back to St. Francis House. He has saved enough for a new place to live and is moving in the near future. "Looking over the life I've lived, I like how I'm living now better." Good luck and continued success Robin.  We're glad we could be a part of your new life!