C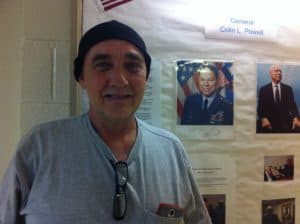 hito is the kind of guy who's always ready with a kind word and a smile. Or a joke and a smile. But always a smile. He served in the Navy as a corpsman and worked in construction once he was discharged.
After the military things weren't so steady. He hurt his back and couldn't work. He began using street drugs. Eventually he spent some time in prison and ended up homeless. Something had to change.
Chito stopped using and has been clean for two years. He's in touch with some of his family and wanted to get off the street. That's where St. Francis House came in. "St. Francis House has given me stability… not having to worry about a place or my things getting stolen. The people are super-nice. Everyone deserves a chance, and I appreciate that St. Francis House gave me the chance to get back on my feet."
Chito is now working at McClellan Veterans Hospital in housekeeping as part of the Compensated Work Therapy Program. He would like to stay on at the hospital and hopes to move into maintenance where he can use his construction skills. He'll be getting an apartment soon and be back out on his own. It's a new chance for Chito. We wish him well and know he'll keep smiling!