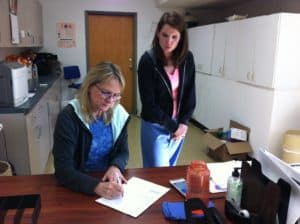 As a supporter of St. Francis House, Lisa had heard about the partnership with St. Vincent's Community Clinic program, but she never expected to need it. "I generally assumed clinics were for the chronically uninsured, and we've always had health insurance." When her husband lost his job, continuing her insurance through Cobra was far too expensive, but since it was offered to her, she also didn't qualify for insurance under the Affordable Care Act.
A small accident caught her in insurance limbo – insured for care and stitches but uninsured for the follow-up to remove the stitches. That's when she found out that St. Vincent's and St. Francis House can also help with patients who are in between coverage. "My nurse was awesome, and I
have made a follow-up appointment for a prescription that will run out soon."
Thank you, St. Vincent's and St. Francis House for being a source of health and healing in our community!