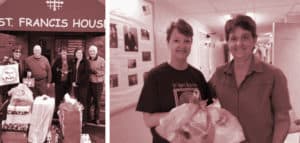 St. Luke's Episcopal Church in North Little Rock recently made a donation to St. Francis House and is challenging other churches to do the same.
"Our endowment fund was established in 2005 with the purpose of assisting with the church's humanitarian programs," said Dennis Terry, chair of St. Luke's Endowment Fund Board. "This year we donated $1,000 from our small fund to St. Francis House, with the intent of assisting with its ministries. We are a small congregation with a small budget, but we have a big heart when it comes to St. Francis House."
Terry said their hope is that other churches might follow their lead by making donations from their endowment funds or including St. Francis House in their outreach budgets for 2018.
"Several small donations to St. Francis House from churches throughout the diocese can add up and make a BIG difference!"