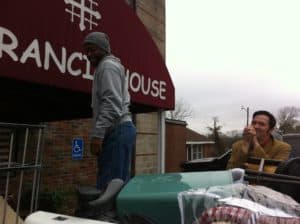 Kendrich Fortenberry is nothing if not determined. Stationed in Germany, he served in the Army for three years as an infantryman and then in food service. When he left the Army, he put his food service skills to good use as a restaurant manager. He lost his job which resulted in losing his house, and the financial stress caused problems in his marriage.
After his divorce, he worked part-time as a truck driver in Little Rock but still didn't have a permanent place to live. He was referred to St. Francis House, and while here, he decided to get his certification as Nursing Assistant.
"I've been here six months, and the staff is wonderful. I've completed my CNA and already have two job offers! The staff helped me get my housing voucher, and I'll be moving out. No matter what, with determination and perseverance and God's help, starting over is possible. It's not possible without God."
Good luck, Kendrich! We know God has good things in store for you!