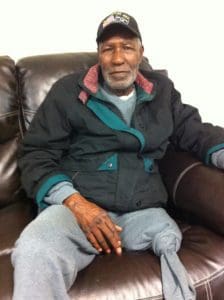 Jesse is a 71-year-old Viet Nam Veteran. He served in the Army infantry and after his tour of duty worked for the Veterans Administration and then the Post Office. He left the Post Office in 1992 and then worked for the Little Rock school district in custodial services.
He lost his wife when she was only 47 and raised his three daughters and son as a single dad. "We are a very close family. Two of my daughters and my son live here in Little Rock and I see them all the time and I get to see my other daughter a few times a year. My brother lives here too and we're still close. Family and my church family; that's real important to me."
Jesse had developed problems with his feet shortly after returning from Viet Nam and by 1999 the pain had become intolerable so he retired. He was diagnosed with blood clots leading to first an amputation of a toe and eventually the amputation of the lower leg in January 2017. After the amputation, he lived with his children as he recovered.
"You know, I actually felt a lot better after the surgery. The pain had been so bad I had no appetite and lost a lot of weight. After I got my appetite back I could eat and I was getting my strength back." He was recovering well when he suddenly passed out. He spent a week in the VA hospital, but they could find nothing wrong.
While in the VA, he was fitted for a prosthesis and got a wheelchair. "That was great, but the kids' places and my place aren't wheelchair accessible so I had to find a new place. I spent a few days in a motel until I could get into St. Francis House. Now I'm looking for a place that's wheelchair accessible so I can be out on my own again."
Jesse has physical therapy three days a week to learn to walk with his prosthesis. "I'm getting around pretty good in the wheelchair though. I even figured out how to get my wheelchair on and off the bus so I can go to my own appointments and go to my church on Sunday. I have people that can take me, but I like being independent."
Jesse will soon be getting that new place. "I couldn't have come to a better place than St. Francis House. I love being here. The whole staff is really great and I love St. Francis House." And we love you, Jesse. We'll miss that smiling face and always upbeat attitude, but we know you'll go farther on one leg than lots of people go on two!