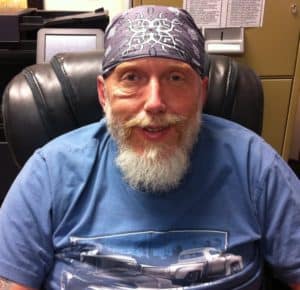 Phillip Michael Jones definitely has the "want to." Mr. Jones served in the Army as a scout from 1999-2002 and after leaving the service, he used his GI Bill benefits to go to school to work in heating and air conditioning. He's used that training ever since. "How did I get to St. Francis House? I call it a comedic tragedy. I had it all, and it crumbled. And I let it happen."
In 2009, while living in Hope Arkansas, an initial run of bad luck including rising interest rates that caused his mortgage to keep going up and identity theft which ruined his credit caused problems in his marriage. A divorce, his wife leaving town and taking the two children, Ethan and Gabriel, to Hot Springs and then bankruptcy and losing his house followed.
"I was lonely. I was renting a house and working, but there was no one to come home to.  I met some people and did what they did to feel like I belonged. Unfortunately, what they, did included using drugs."
Mr. Jones was thrown out of the rental house, and since he had nowhere to go, he went to Hot Springs. "All I had was my backpack; I was truly homeless. I bathed in the creek, knew where I could eat, slept where I could". Eventually, his brother gave him a place to live and things were going well again. A new job, no drugs, until he ran into an old friend. And it started again. "My brother finally had enough and kicked me out; I got arrested and went to jail for fifty-two days. " The case was dismissed, but I wanted something different. I went to a place called The Father's House. It had a one-step program, and that one step was Jesus".
One night he was told some men were waiting for him. "I thought maybe it was my sons, but it was the police. I was charged with being the middleman in a drug deal and ended up spending five years in jail. That was where I heard about St. Francis House, from one of the Veterans there. "Mr. Jones has been at St. Francis House for two months now. He plans on finding a job in Heating and air again and staying in Little Rock. He is looking forward to reconnecting with his children. "Ethan is seventeen now, and Gabriel is thirteen. I haven't seen them in two years."
For those Veterans out there who may be in difficult situations, he has this advice "You have to have the 'want to.' When you're using and want to get drugs, you do what you have to and get it. If you want to get clean, you do what have to to get clean. It all starts with the 'want to.' In the Army, we would say 'Just drive on.' So there's no shame in getting help. If you're tired of losing, tired of falling on your face, get the 'want to,' and I believe Jesus will pull you through it."