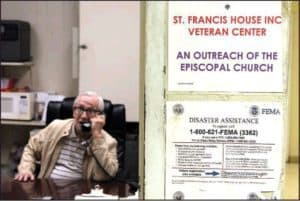 St. Francis House Ministries volunteer Don Deems is on the phone. It's how he spends a big chunk of the two days a week he serves at the Little Rock charity.
On this rainy afternoon in May, he is telling a caller that the ministry doesn't have enough money to help with her utility bills.
"Money is always a sore subject," he says later. "We never have enough. But what is done here is worthwhile. And by volunteering, hopefully I'm making it possible for [St. Francis House] to save some money. I've been very fortunate, and after all, it's the Christian thing to do."
The St. Francis House mission is two-pronged, Deems says.
"We have a homeless veterans program where we feed them and house them while they participate in a VA recovery program. Then we have social services that, when we have money, we help with utility bills. We also have a food pantry that's open five days a week, not just one day like so many others. And we provide clothing and household goods."
St. Francis House opened in 1970 as a social outreach arm of the Episcopal Diocese of Arkansas. In 1980, the ministry moved to its current location at 2701 S. Elm St., where it serves the community with programs including the food pantry, a free medical clinic through CHI St. Vincent Infirmary, and help with prescription drug payments.
In 1988, St. Francis House received a contract through the Veterans Administration to serve as a transitional program for homeless veterans. Up to 52 veterans can be housed there, where they receive counseling, substance abuse treatment and other services.
"Most of last year we were pretty filled up," Deems says. "The VA has been on a push to get them housed, and we're down to about 32 as an average now."
Deems came to St. Francis House through his church, Saint Mark's Episcopal in Little Rock, and figures he has been volunteering between seven and 10 years. Along with his job answering calls and helping bring in donations of food and clothing, the 81-year-old is there to help process the veterans as they come and go.
On the two days a week he volunteers, Tuesday and Wednesday, Deems arrives at 6 a.m. Veterans must be out of the building each day by 8 a.m. for job searches or appointments at Fort Roots or nearby McClellan VA Medical Center and aren't allowed to return until 2 p.m. Part of Deems' duties include checking veterans out of the facility in the morning.
"The faces change, but the stories don't change much," he says. "From jail, to drug addiction, to divorce. A lot of them now are Desert Storm veterans. Most of them suffer from post traumatic stress disorder. When they leave, we make sure they have enough clothing and we provide them with some furniture, though you'd be surprised at how much they accumulate when they're homeless."
Darlene Bourgeois is the executive director of St. Francis House.
"He is a very awesome guy," she says of Deems as she leads a reporter on a tour of the 25,000-square-foot, three-story facility. "We couldn't do it without him. He steps in when we need something. He's one of those volunteers everyone wants."
Deems is one of about five volunteers who works the front desk. Including the social work program, there are about 200 St. Francis House volunteers, Bourgeois says.
"We could always use more help," she adds.
Bourgeois has been at St. Francis House since 1986.
"It's our mission to find what needs in the community are not being met and then meet those needs," she says.
To that end, another veterans program through the VA at St. Francis House is Supportive Services for Veterans Families, which is designed to help veteran families at risk of homelessness keep their housing or assist recently homeless families back into housing.
"If they meet income criteria, we can often help them with back rent and keep them in their house and get them stable," program director Pat Dahlgren says.
For those who are already homeless, "we can help them with housing searches, deposits or first month's rent," she says.
Another service for homeless veterans is the re-integration program, which focuses on helping veterans find work.
St. Francis House's service to veterans is something that has personal relevance for Bourgeois.
"My father was a Korean War veteran," she says. "He came back and seven years later committed suicide. Veterans programs were just a natural for me. I love being able to help veterans."
Ask her about a success story from St. Francis House and she smiles.
"Johnny. He was a bad, bad alcoholic. He got sober, found out about St. Francis House and he was placed in the program. He left here and moved into one of the high-rises and came back every Friday to volunteer until shortly before he passed away. He was a joy. He knew everything about St. Francis House."
Several veterans, she says, have come back to volunteer and many return regularly for substance abuse meetings and counseling.
For two days a week, Tuesday and Wednesday, CHI St. Vincent Infirmary runs a free clinic for uninsured people from the community.
"They're just awesome," Bourgeois says.
The St. Francis House food pantry is stocked with items picked up daily by Saint Mark's volunteers from Kroger on Markham Street in Little Rock.
"This is what would normally be thrown out, so they bring it here," Bourgeois says while pointing out items from the Kroger deli. "We also get a lot of food from Whole Foods. They send us stuff three days a week."
The pantry is also filled through other donations and food St. Francis House buys from the Arkansas Foodbank and commodities from Arkansas Rice Depot.
On average, Bourgeois says, about 100 people a day seek help at St. Francis House.
"The first four days of the week are busiest," she says.
Deems, who retired as president of the Arkansas Credit Union League, had long planned on being a volunteer after his career was done. Along with helping at St. Francis, he also volunteers at Saint Mark's.
"While I was working, I didn't have a lot of time to do much of anything else. I decided that when I did have the time, I was going to make up for it. I've met some beautiful people here, people who are using God to get better and turn their lives around."
Arkansas Democrat-Gazette/SEAN CLANCY