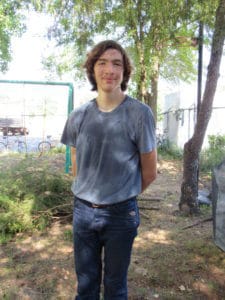 The outdoor area at St. Francis House is getting a make-over thanks to Andrew Shields and Boy Scout Troop 7. At St. Mark's Episcopal Church. Andrew recently graduated from E-Stem High School and will be going to the University of Arkansas Fayetteville in the fall. He has been in scouting all his life and joined Troop 7 when he moved here three years ago. For his Eagle Scout project, he chose to beautify the outdoor area at St. Francis House. "I've been with the troop to help with Christmas food boxes and noticed the outside needed some work. I thought it would get more use if it had better seating and was just more usable."
Andrew contacted Executive Director, Darlene Bourgeois and began making plans. Andrew and the troop made new benches for the area, redid the horseshoe pits, patched sections of fence and trimmed trees. They also removed the playground equipment and took it to the Family Development Center where it will get lots of use.
Thank you for thinking of us at St. Francis House Andrew. We appreciate your hard work and offer best wishes as you begin your college journey!