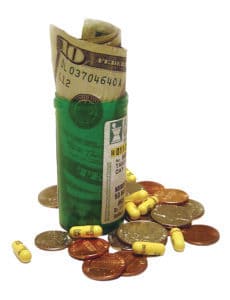 Joanna moved to Little Rock from Louisiana in hopes of better medical care and employment. She is undergoing medical treatment for opioid addiction and relies on Methadone for continued recovery. Unfortunately, because it is a controlled substance, Medicaid will not cover her prescription and a thirty day supply is over $400. She came to St. Francis House to ask for help.
"We were able to get her provider in Louisiana to fax us her prescription and had the funds to help pay for the medication," said Socia Services Director, Phyllis Jones. "Medicare only covers a certain number of prescriptions, and then people have to pay out of pocket; Medicaid doesn't cover certain medications, and the average up-front costs for our clients with insurance is $4000.00. We've seen deductibles as high as $7000. We've also seen maintenance medications increase dramatically- things like insulin, blood pressure and cholesterol medications for example. The prescription program here is a literal life-saver for people."
Thanks to St. Francis House donors, staying healthy doesn't have to be quite so hard!