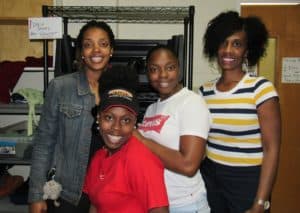 Shorter College students Ashley Roy, Special Turner and Tatreuna Thornton with their professor Marilyn Bush have become familiar faces around St. Francis House.
When Mrs. Bush was looking for a place to host her students for a service-learning class, St. Francis House was happy to help! Students began with an orientation lecture about St. Francis House. Then, in addition to their reading and classwork, they came out to volunteer one class period a week for the summer session. The students worked in the clothing room and food pantry, giving them a first-hand look at what it takes to meet basic needs like food and clothing for our low-income neighbors. The students even did some closet cleaning of their own and brought donations to St. Francis House!
"The purpose of the class is to promote a healthy community while improving morale and teaching students to give back. This experience also helps the students to develop positive characteristics and interpersonal skills which potential employers want to see in their employees," stated Mrs. Bush.
Thank you for sharing your time with us; we're honored to have been a part of your college experience!