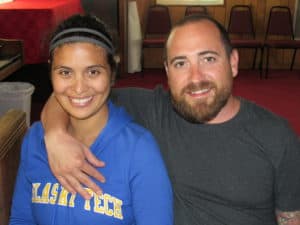 When you look at these beautiful smiles, it's hard to believe that just a short time ago they were living rough and sleeping wherever they could.
Anthony Pointer served his country from 2008 to 2012 as an Army dental specialist stationed in Germany. After leaving the military, he moved to Florida and certified as an underwater welder. He worked at that job until returning to his hometown of Little Rock last October to care for his mother.
"She lives in senior living and was having some problems, so I came back here. Normally, no one else can live with them, but I got permission to live with her for a while.  That's when I met Yennifer. We've been dating for a year and decided to get married. But, that's when other things started to fall apart."
The facility decided that Anthony could no longer stay with his mom, so he and Yennifer got a place of their own, and he continued to look after his mother. Shortly after that, Yennifer's hours got cut to less than three hours a week, and they could not make their rent. "We stayed with a friend for as long as we could, but when she moved, we found ourselves homeless. And we found out that Yennifer was pregnant. "
The couple slept in campgrounds and car garages near War Memorial stadium and eventually downtown. "We got help from The Van. They gave us toiletries and sheets, some clothes and sack lunches. I tried to work, but it's hard when they call, and you haven't showered or changed your clothes in a few days. We were down to $6.00 we found in a parking lot when another homeless man told me about the Veterans' Day Treatment Center. We went there and it everything began to get better. Our caseworker helped us to get showered and wash our clothes; she helped even got us the money for our marriage license and found a Justice of the Peace who would do the ceremony for free. They got us a cake, and all the staff came. Then we got in here."
While at St. Francis House, Anthony will be looking for employment and Yennifer will be focused on taking care of herself and her future baby. They are close enough to Anthony's mom to continue to check on her and make sure she is OK. Eventually, their own place to build a future for their family.
Welcome to St. Francis House Anthony and Yennifer, we are so glad the next part of your journey is with us!