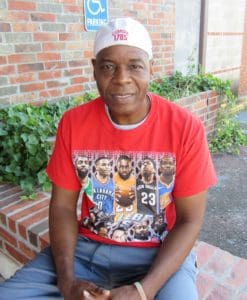 Fifty-Three-year-old Rickey Woods is an Arkansas native and Army Veteran. Born and raised in Crossett, he enlisted in the National Guard in 1987 and shortly after joined the Army. A supply specialist, he was first stationed in Germany, then Fort Leonard Wood, Missouri and finally served in Korea before he left military service in 1992.
After his service to his country, he returned to Crossett and worked in the plywood mill until it closed in 2009. Left without a job, he worked odd jobs to make ends meet. "I made a few bad decisions along the way, and that ended with me not having a place to stay. I came to Little Rock in 2016 and got into St. Francis House. I found a job here, and Supportive Services for Veterans and Families (SSVF) helped me get an apartment. I really wanted to be out on my own, so I didn't go through HUD-VASH. I didn't want to wait that long.."
Mr. Woods says that in hindsight, that was a mistake. Without the rental assistance,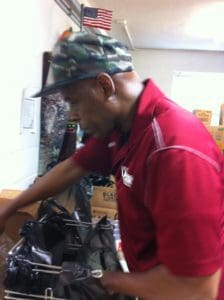 he got overextended and fell behind on his rent. He lost his apartment in June and returned to St. Francis House. Recently he joined the St. Francis House staff working in the food pantry. "I've realized though, being a Veteran is a blessing. I had so many more options to get back on my feet than other people. I've learned a lot, especially working here at St. Francis House. It helps me stay grounded. Sometimes I fall into thinking 'Why me' but I look around and realize I'm not in as bad a shape as I think I am. I'm in a good place, and I'm thankful for St. Francis House and especially Ms. Darlene and the job. It was like I was meant to be here and work here. St. Francis House needed the help, I needed a job."
Mr. Woods, know that you will always be part of the St. Francis House family; we're so glad you are with us!