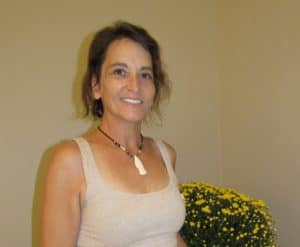 One of our newest members of the St. Francis House family is Lynn Nathan, an Airforce Veteran. Lynn served from 1984 to 1988 right here at Little Rock Air Force base in base supply.
With a ready smile and bubbly personality, Lynn is not one to hang back on the sidelines. In fact, the first time we spoke was helping clean-up at the Shrimpboil on her second day at St. Francis House.
Lynn comes from an Air Force family and lived "all over." She has one son from an earlier marriage who also lives here in Arkansas.
"After I left the Air Force I worked at various jobs, mainly secretarial. But I was recently in a car wreck that totaled my car, and I couldn't get to my job. That led to needing a place to stay. I didn't know what to do so I literally just searched for Homeless Veterans. I saw the VA Hotline number and called, and they put me in touch with the Day Treatment Center. That led to the referral to St. Francis house, and it made sense for me to come here." Currently, Lynn is taking care of medical appointments that fell behind due to her transportation problems. But that hasn't stopped her from helping in the kitchen at St. Francis House and taking steps toward her job search. Good luck Lynn and welcome to St. Francis House!