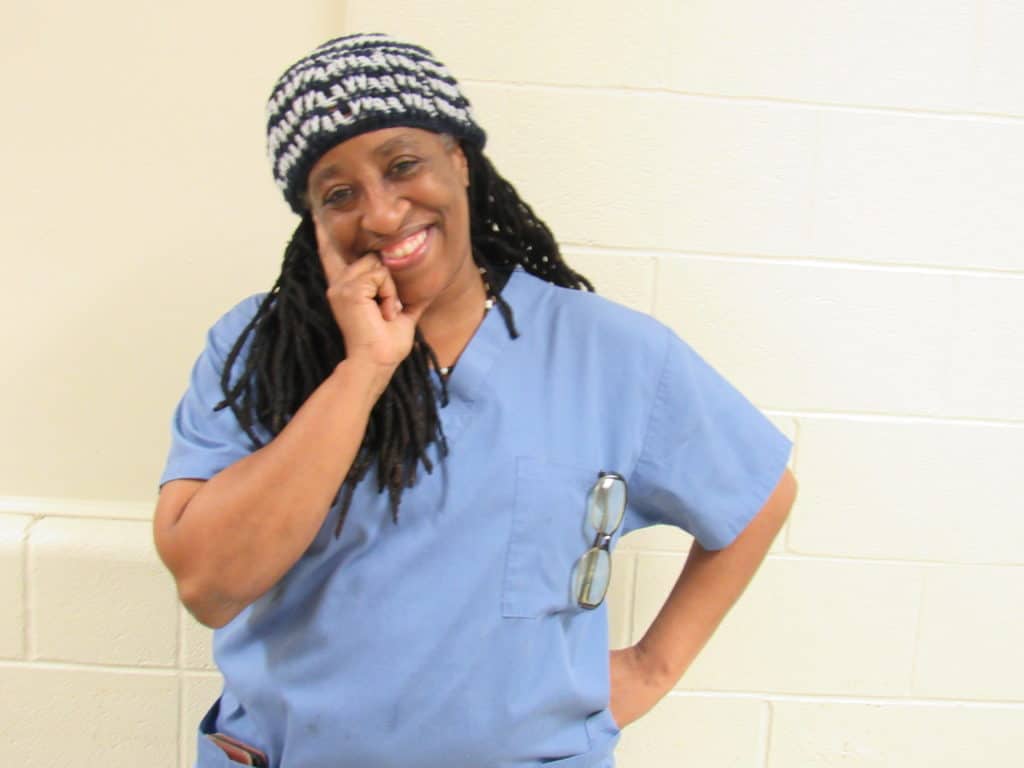 Meeting Gevetia Williams, a Veteran recently housed at St. Francis House under the VA Homeless Veterans Program, you see a happy, confident woman. But behind that smiling exterior is a lifetime of hardship. Born in Stuttgart, Arkansas, her father abandoned the family when she was only three years old leaving her mom to raise her daughter and run the family café alone. As a child, she was molested by a babysitter and then later by a client at the café and began using alcohol at a young age.
After high school, she joined the Army National Guard and served from 1989 to 1992 at Fort Dix, NJ and then in Pine Bluff, Ar in transportation. "My drinking got worse in the military. We drank every day when not on duty; it was just the thing to do." She left the Guard after an MST, sexual military trauma. "I couldn't believe a peer would do something like that. And every time I saw him I was fearful; I felt like it was my fault. I didn't even report it at the time".
She received an honorable discharge and entered civilian life. "I got jobs, but I couldn't keep them. My drinking continued, and eventually, I was using cocaine, crack…I was seeing older guys, making bad decisions in that too." In 2013 she found herself in the substance abuse unit at Ft. Root. "That wasn't my first rehab. I've probably been in and out of treatment probably seventeen times. I've done prison time on drug-related charges too. " She completed treatment and came to St. Francis House. " I got a full-time job at the VA, but I wasn't ready. Once I left, I relapsed."
Gevetia continued to struggle with her chemical dependency and her trauma-related mental health issues. She recently completed treatment and moved back into St. Francis House and is justifiably proud of what she has accomplished. She is in a training program through Goodwill for a job at Baptist Health which will finish training on Feb. 22 and she's finally opening up about her abuse. "I've got all my paperwork in for housing. There's been no drinking, no smoking dope, no drugs, no selling my body. I'm working on things I'd never worked on, and I'm learning to take responsibility, be accountable. I'm finally growing up. I'm not letting other people have control over me because I'm not helpless, I'm hopeful. My spirit is ready, and I'm going to make it!"
St. Francis House is proud to be a part of your journey Gevetia. It's a long road, but we'll be with you every step of the way!