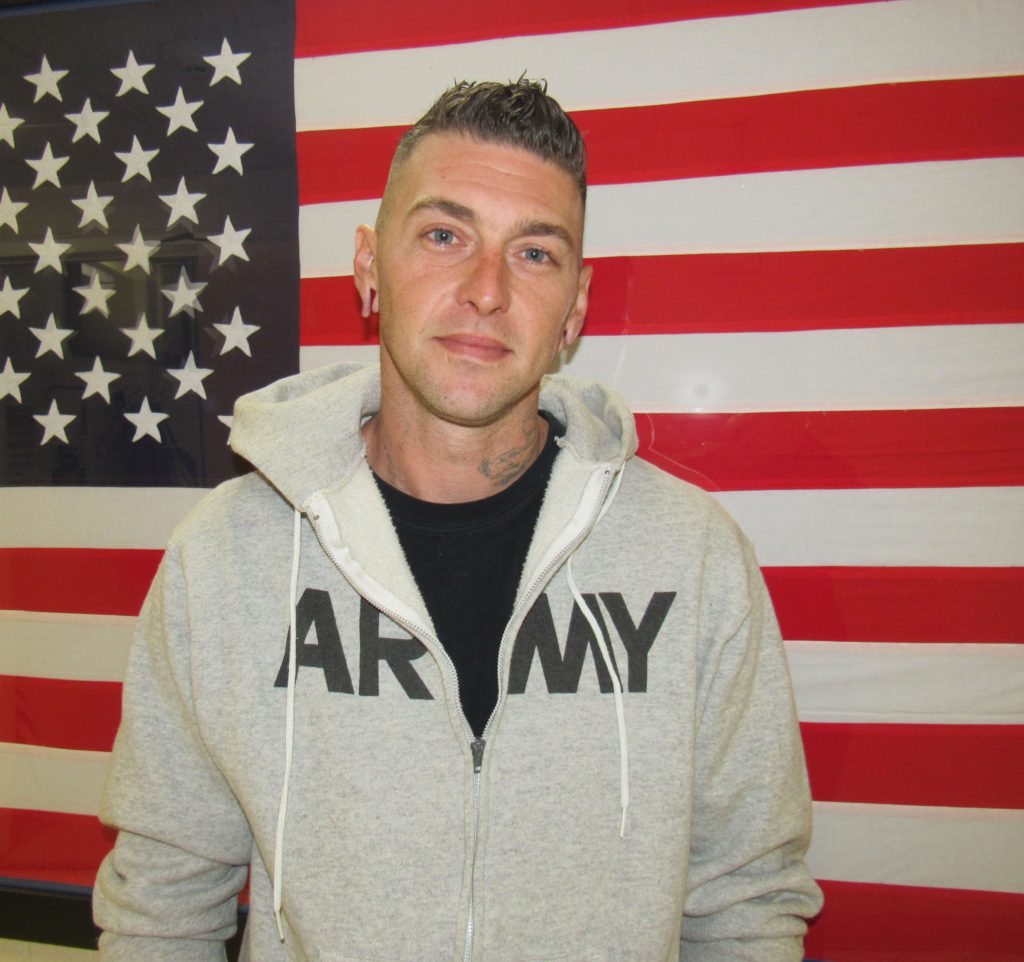 Chris Cascanet, a Veteran currently housed at St. Francis House under the VA Homeless Veterans Program, served his country in the Army as a quartermaster and chemical equipment repairman from 2006-2010. He grew up in Watertown. NY and was stationed at Ft. Hood, Texas.
"I enlisted at 23. Until then, I was basically a street punk, a punk rocker. I worked as a tattoo artist and mechanic. I got tired of not making a difference. I came from a military family, so it made sense to serve my country."
After leaving the military, Chris took some time off to go to school. After that, he, his fiance' and step-son moved around a lot, looking for a good place to raise a child with special needs. They moved to Little Rock this fall with a job lined up, and it looked like it was a good place to settle. However, when the job fell through, he became homeless and also lost his family. Things seemed to go from bad to worse. Some men offered him a job in Benton, drove him there, bought him work clothes and food; but then they asked him to cash a check that turned out to be fraudulent. They left him at the bank and took off with everything he had, and he ended up in jail. After three days, he was released on his own recognizance, and since he had no money, he began walking back to Little Rock. Chris was hit by a car and taken to a Little Rock hospital.
"After I was released, I spent the night at the Compassion Center. I began looking for resources the next day. I went to St. Mark Baptist Church, and when the receptionist learned I was a Veteran, she called the Veterans Day Treatment Center. "One of the men at the church gave me a ride, and then everything started to move forward. A caseworker at the Day Center took me to McClelland to be checked out, and they let me shower and shave and even stay in their waiting room until all my eligibility paperwork was approved. I finally felt like a soldier again. From there, it was straight to St. Francis House. I got here on October 2nd."
Chris has now found a job as a diesel technician, and he and a partner are also beginning a home restoration business. "I never stop pushing because if you believe it, you can do anything. I would tell any of my brothers and sisters in arms if you have problems, St. Francis House is the place to come."
Chris has also found a house to rent and will soon be on his own. "Now, all I want to do is bring my family back together. The VA here in Little Rock and St. Francis House has helped me with all of this. Little Rock has the best Veteran services and the best VA anywhere. They'll give you the help; you have to keep going until you achieve what you want."
You'll be missed at St. Francis House Chris; good luck and God speed!