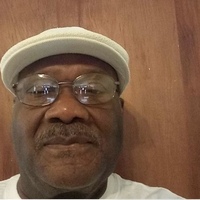 It is with heavy hearts that St. Francis House says a final farewell to our friend and co-worker Bedford Rucker Jr. or BJ. BJ, an Army Veteran,  worked at St. Francis House as a desk clerk for more than 12 years, and all remember him as a quiet, kind, and God-loving man.
While all loved him, he and staff member Garry Clemons were the best of friends."I've known BJ since I lived in Pine Bluff, but we really got to know each other and became friends in 2002. When a job opened up here, I referred him. He was hired for a part-time position and then full-time. He was always willing to work when we needed him. He took family and friendship seriously. He was such a good friend that my children called him Uncle BJ, and he was very proud of his children! He had a son who passed away and has three sons and two daughters. He talked about them all the time. He was so proud of them."
BJ was a devout man and loved God and Scripture. On a lighter note, he also loved sports, especially the Razorbacks, the Dallas Cowboys, and the San Antonio Spurs…but the Razorbacks were his favorite. He was even buried in Razorback gear. Rest in peace, dear friend; you will be missed by so many!