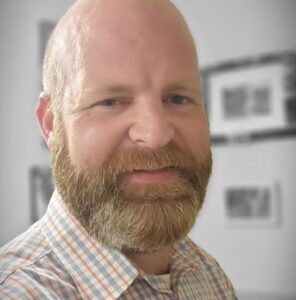 St. Francis House is excited to announce Sean Conrad's appointment as our new director of Supportive Services for Veteran Families (SSVF). As SSVF expanded to serve all of Arkansas, adding offices in El Dorado, Jonesboro, and Fayetteville,  it became apparent SSVF needed a different organizational structure. Air Force Veteran Sean Conrad seems to be a great fit. "I have a strange blend of passions. I'm passionate about social services, and I'm passionate about the bottom line. It's a unique combination, but I think it's what is needed in this position." St. Francis House staff members James Evan Hammond, Heather Young, and Kate Dahlgren will become Lead Case Managers for Little Rock, El Dorado/ Jonesboro, and Fayetteville, respectively.
Mr. Conrad's journey into social services began in the Air for where he served as a social work technician.  He joined the Air Force right after 911. "Watching the towers go down put a whole different spin on my life." While on active duty, he completed a BS in Business Administration and returned to Arkansas in 2008 to work at Pinnacle point Hospital. He eventually earned a Master's in Education and Business and taught at the high school level.
Before coming to St. Francis House, Mr. Conrad worked at the Little Rock Air Force base as a Patient Safety Manager for the medical clinic. "I was an investigator. My job was to implement process improvements to improve safety. I bring that knowledge of the process to supervision as well. It's about fixing a problem by improving the process, not by finding out "who did it?".
"I want to continue to serve our Veterans. To do that, I have to keep the grant going and make sure I am a good steward of those funds. I also see my job as being a coach and teacher and a perpetual learner myself. I learn from everyone on the team and enable our staff to be the best possible service providers.  My goal is for our staff to improve to the point that they are too good to work at St. Francis House and for our service to Veterans to be so good that no one will choose to leave."