Be sure to come by Hurt's Donuts, 107 E. Markham St., Little Rock, this Friday, June 4th, from midnight to midnight. It's National Donut Day and St. Francis House will receive a portion of all proceeds! Tell your friends, spread the word; it's a wonderful way to indulge your sweet tooth while benefitting St. Francis House!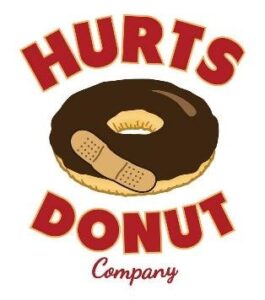 Hurts Donut Co. Announces National Donut Day Charity Partnerships
Springfield, MO, May 26th, 2021– Hurts Donut Company, across all representative markets, is partnering with local charities that serve military and emergency services. The charity will receive 10% of National Donut Day sales from each location on June 4th, 2021.
Tim Clegg, Founder and CEO of Hurts Donut Company, states, "National Donut Day (NDD) was established in 1938 by The Salvation Army. The original intent of NDD was to provide donuts to servicemembers overseas to give them a taste of home". Clegg continues, "We decided at our founding that we would carry on the spirit of the origin by supporting those who protect us every day rather than giving out a free donut."  
Each Hurts Donut Company location has selected a charity that serves the local community. The Little Rock Hurts Donut Company has partnered with St. Francis House. St. Francis House serves by addressing the diverse, critical needs of the underserved, which are not adequately addressed by others in the community. You can find out more about St. Francis House at www.stfrancishouselr.org.
National Donut Day is Friday, June 4th. Customers can enjoy more than 70 varieties of delicious specialty donuts and have an opportunity to donate money to St. Francis House to maximize the impact of the day's fundraiser.
About Hurts Donut Company
Based in Springfield, MO, Hurts Donut Company is a trendy donut shop and bakery that leads the industry in off-the-wall donut creations and trending social media marketing concepts and video posts. Hurts currently operate in 11 states, including Missouri, Oklahoma, Kansas, Iowa, Nebraska, Arkansas, Texas, Colorado, Wisconsin, Louisiana, and Arizona. You can learn more about Hurts Donut Company at www.wannahurts.com.