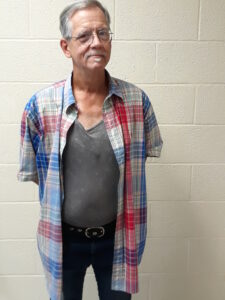 Saint Francis House helps Veternas in a variety of ways. Some stay with us for a time; others, like Army Veteran Clinton Carter Jackson, receive assistance through the non-residential program Supportive Services for Veterans and Families (SSVF).
Mr. Jackson was born in Kansas but moved to Little Rock at seventeen. Shortly after that, he joined the Army and served his country from 1982-1984 as an Armor Driver. He married and began working. Eventually, his wife's increasing mental problems destroyed the marriage and resulted in homelessness.  He remarried, but once more, his wife's mental health issues, including chemical dependency, caused homelessness and eventually broke up the marriage. "Then my wife called and said she was clean, and I moved to be with her again, but she relapsed, and basically, I've been homeless ever since."
Mr. Jackson traveled around and eventually ended up in a facility in Kansas on a suicide watch. "The holidays last year just got to me. I was alone through my birthday and all the holidays. I don't like to take resources; it always feels like there might b someone else who needs it more than I do. Even when I was on the street, I'm a musician, so I busked instead of flying a sign."
Mr. Jackson was put in contact with SSVF while he was in Flagstaff. They got me a bus pass and helped me get back to Arkansas. This program saved me. I got stranded in Pottsboro, and Kim and Brianna actually came and brought me to Little Rock. They got me into the Compassion Center, and I began working with SSVF here. When I left the Compassion Center, SSVF even put me up in a motel for a while. Working with Marcus, I got a bus pass, a place to get mail, help with paperwork and medical appointments, and now have my own apartment. I'm filing for SNAP to help with food costs, and I'm working on getting my disability."
His caseworker has nothing but praise for Mr. Jackson. "He has done everything we've asked of him. All I had to do was assist him".
"It's great to know that we have some folks that are working and getting things done, that effectively help people. I would tell other Vets not to wait so long to take help. It seems like I've tried to take care of others for so long, I wasn't sure how to take care of myself alone." Mr. Jackson hopes to use his musical training to do some online music and recording once he gets more settled.