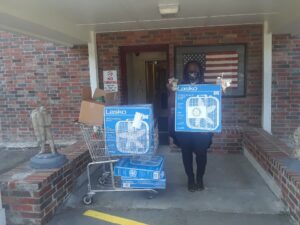 Meet our newest community partner, Compassionately Connected for  Veterans Inc.! Michelle Mothershed began working towards starting this non-profit in March, and it became official in July. "As a service-connected  Veteran, Veteran spouse in the past, and the mother of three, I know how easy it is to get lost in the shuffle of the military to civilian life.  There are often divisions between the Veteran, their immediate families, and  our community, as well as an information gap." As a 23-year Army Veteran and retired teacher of twenty years, Ms. Mothershed decided to spend the rest of her retirement helping other Veterans, their dependents, and the community.
"CC4V's goal is to enable stakeholders to reconnect and serve those in need by holding true to our four principles: Compassion,  Commitment, Caring & Comfort. "Although we will service all Veterans, there is a dire need to focus on the homeless, incarcerated, substance abuse rehabilitated Veterans, their spouses, and their children. Our goal is not to leave any Veteran or their dependents behind. To do this, we try to meet as many of their needs as feasible".
Compassionately Connected for Veterans, Inc. has already taken its place in the Little Rock non-profit community by joining the  Little Rock Regional Chamber of Commerce and beginning its first fund-raising efforts. Ms. Mothershed recently brought CC4V's first donation to St. Francis  House- some much-needed fans for our Veterans, food items, and a monetary donation for other needs.  
You can learn more about their organization on Facebook, Compassionately Connected for Veterans Inc., or on their webpage,