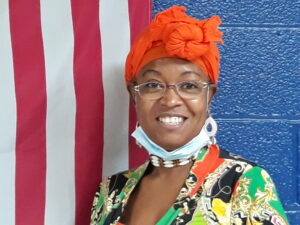 Twanna Harper's story is one of perseverance and strength. She served her country in the Army from 1994 to 2000. She initially worked as a petroleum supply specialist, driving trucks and tankers, and testing fuel. She later became a colonel's secretary and SGM driver.
Ms. Harper grew up in Arkansas and went to the College of Cosmetology in Killeen, Texas. She was a mother going through a divorce when she enlisted. "My mom was Army and so were two paternal uncles and a sister, so it was a logical move for me."
Ms. Harper remarried while in the Army and the family moved to Germany where they lived for ten years. She and her husband were also both ordained ministers and worked in various areas of ministry. Ms. Harper terminated the marriage when she found out that her husband was engaging in inappropriate behavior.
Ms. Harper moved back once more to Arkansas. She went to Southern Arkansas University Tech and then went to work for Georgia Pacific. She later began having seizures and applied for VA disability.
Ms. Harper moved back to Hampton. But the failure of several relationships, including domestic violence, led to Ms. Harper living in a women's shelter in Fort Smith. When there was little help from the VA representative there, she came to Little Rock.
"Once I got here, I received help immediately. I went to the Day Treatment Center and was at St. Francis House the next day. It's been a blessing, but it was a huge culture shock at first. I'm very organized and not everyone is. Plus, I have different issues than most of the other Veterans. My marriages ended because of various trauma and I experienced sexual trauma in the military as well. "
Ms. Harper is open and honest about her journey at St. Francis House. "I learned a lot about myself, who I am, how to say 'no', how to save money, and to be self-sufficient. " She also talked about her experience with the Veterans here. "I have learned that not all men who are nice to you want something. I was accosted twice just walking from the Day Treatment Center here. Once I told the Vets about it, they never let me go anywhere alone. They treat me with respect and courtesy."
Ms. Harper is working towards getting her place and eventually wants to buy a home. "I want to have a legacy to leave my family."