Thank you for checking out our Announcements page. We will try to keep the latest updates and information of services we provide, items we need, and/or community announcements to help better serve our community and Veterans.
UTILITY ASSISTANCE: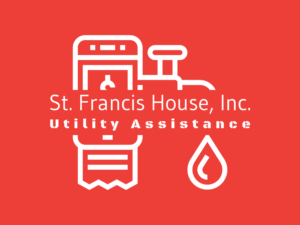 St. Francis House is able to help with Utility Bills. At this time we can only help with Gas, Water & Electric. No rental assistance is available.

You must have an Official Cut-Off notice from the utility company to be considered.

If you do not have an Official Cut-Off notice, we will not be able to help.

Please click on the Food-Clothing-Utilities tab for details.
ITEMS NEEDED FOR CLOTHING DEPARTMENT:
Our clothing room needs are:

Diapers- 0-6 sizes

Shoes (men & women) 

Hardback books

Men's clothing, Women's clothing, Children's clothing.

Hygiene/Toiletry items- bar soap, toothbrush, deodorant, shampoo

Feminine products

Kitchenware items – utensils, dish towels, soaps, pots/pans, etc. 
SPEAKER NEEDED:
If your Church or Organization would like a speaker to talk about St. Francis House at your next luncheon, community group meeting, or service, please call (501) 664-5036 and ask for Greg Chastine- Exec. Director or email at greg@stfrancishouselr.org
OUTINGS:
If your Church or Organization would like to host a dinner (your-site) or at St. Francis House for our Veterans that reside in our transitional housing facility, please email Linda King (Community Outreach) at

linda@strancishouselr.org
HOMELESS VETERANS:
If you are a homeless Veteran, we may be able to help. Please call us at (501) 664-5036 for more information.
FOOD PANTRY-CLOTHING ROOM:
Our Food Pantry is open Monday-Friday from 9:00am-4:00pm. We close 12:00pm-1:00pm for lunch.

No qualifications are needed, just bring your ID.
BUS PASSES:
We offer Rock Region Metro bus passes for the homeless in our community at St. Francis House.

You must receive a referral slip from one of our partnering agencies. Please click on this link for more details.