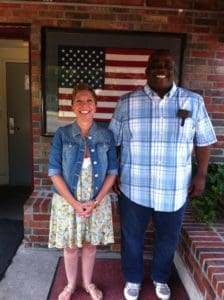 July 1st marked the beginning of a new federal grant focusing on employment for homeless veterans, and we are pleased to announce the first step forward! St. Francis House has hired Carol Chastain to be the administrator of the program and Paul Smith as our employment specialist.
Carol has been with St. Francis House for over a year as our part-time accountant. Prior to that Carol had over twenty-five years' experience in fundraising for non-profits. St. Francis House had been one of her accounts, and she was impressed with the organization. So when she left full-time work, she began doing the payroll for St. Francis House. By accepting the position of program administrator, Carol become a full-time part of the St. Francis House family. Carol will act as liaison between the program and employers as well as managing the overall administration of the program. "We're here to help homeless veterans back into permanent housing and back into the workforce so they can once more use their time and talents as part of the community and get back to a more productive life."
Paul Smith is a new addition to the St. Francis House family. He has extensive experience in staffing, networking fundraising, and job creation including working with Concerned Americans for Religious Expression (CARE). Through CARE, he worked with President Bush and Governor Jeb Bush to open the first faith-based prison in the United States. His responsibilities will be to help veterans develop the skills they need to enter the workforce and to connect veterans to appropriate employment. "It is an honor to help our nation's most worthy and most needy people. God has put me in a place where and I'm blessed to be used by God to let them know they are not forgotten."
St. Francis House is proud to have found two people with such a range of gifts and talents to begin this program!