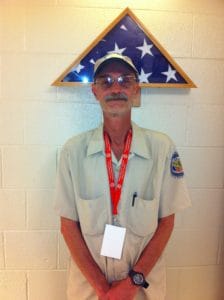 Jimmy Perry served in the Army Infantry from 1978 to 1981 as a material supply clerk. He is justifiably proud of being responsible for a quarterly budget of $200,000 and "never losing a penny". After he left the Army, he moved to Florida, working in general maintenance and metal shop work.
When his parents became ill, he returned home to Virginia to care for them. After their deaths, he moved to Texas for work. He had come to Hot Springs on vacation several times and fell in love with the town, eventually finding a job there. He bought a house, and for a time things were going well. "But then I lost my job, then my car, then my house, and ended up homeless." As often happens, during that time, he also made some poor choices. "I got dependent on alcohol."
Jimmy was going through a soup line when he noticed some people asking the clients if they were Veterans. That moment was a turning point. The friendly faces were caseworkers from the Veterans Day Treatment Center here in Little Rock. "They asked me if I knew about the services available for Veterans. I had never heard of such a thing. They definitely saved my life."
Two weeks later Jimmy was sitting in the parking lot of the courthouse waiting on a van to take him to St. Francis House. An officer asked him what he was doing there. "I explained and later that policeman came back and had brought me breakfast!"
Jimmy has been at Saint Francis House for five months now. While he has been there he has worked in the kitchen and has gotten a reputation for being willing to help whenever he is needed. Director of Veteran Affairs, Ken Mace, describes him as "the kind of guy you can ask to help with anything, and he will lend a hand." He is currently working through the Compensated Work Therapy program and is looking forward to being on his own again soon. "My voucher for housing is approved and my deposit is done. I'm just waiting for the inspection." He hopes to move into full-time employment at the VA hospital in housekeeping and work his way into the maintenance department.
Mr. Perry, we'll miss you, but we wish you "God speed" and know that you'll continue to bless those who need a hand!