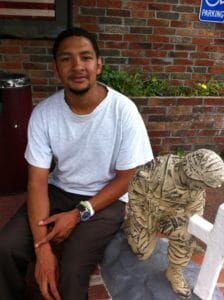 Quiet, polite, a little shy…that is the first impression of veteran Floyd Diggs. But once you get to speak with him, other words come to mind like hard working, determined, dedicated.
Floyd was only 17 when he enlisted in the Army. He served from 2008 until 2012 in Afghanistan and South Korea. By the time he left the service, he was married with a young son. When he returned home, he worked landscaping and warehouse jobs and began adjusting to civilian life.
Unfortunately, marital problems followed and sadly his marriage soon dissolved. "I was also drinking too much and smoking weed. I met another lady and her friends and got involved in stupid stuff." Floyd was arrested and received probation. "My family was in Tulsa, I was in Fayetteville. I took off and broke my probation."
Floyd and his lady friend had a child. Money was tight, and his son became ill. The medication he was on caused diarrhea, and they were down to two diapers. "So I went to the store and I stole some. I got caught, sent back to Arkansas and did fourteen months in jail. I came to St. Francis House as part of my parole."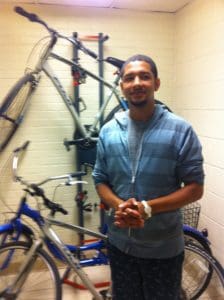 Floyd is now a part of the Compensated Work Therapy program. He works second shift at McClellan Memorial Veterans Hospital. Since he has no transportation, he checks out a St. Francis House bicycle each afternoon to ride to work and rides back each night. He still wants to return home, but this time, he is doing it the right way. He has requested a transfer and will find out soon if it has been approved. Though we will miss him at St. Francis House, we're glad to know he'll be going home.