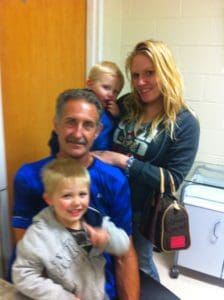 It's always fun when we have families at St. Francis House, and our current "child clients" are always sure to make us smile! Father, John Mann, served in the Army as a fire control repair technician for the Apache helicopters. When a service connected injury make it impossible for him go on with the flight training, he decided to leave the service.
He worked as a heavy machine operator, but a back injury led to chronic pain and drug use. This led to legal issues and drifting in and out of jobs and relationships. He entered rehab through the VA and even received a scholarship for his freshman year of college, but the problems continued, and he eventually dropped out.
Enter wife, Cheyenne, with a beautiful smile and an obvious love for John and their two boys. Together they're starting over. "I'm a skilled individual, but I made some bad choices. I have six kids and two step step-children, and I want these two to have a good life. When the VA representative at the unemployment office told me about this program, I knew it would be a good move."
John borrowed the money to get to Little Rock and got a referral from the Veterans' Day Treatment Center to come to St. Francis House.
But young children need things that Veterans' Services couldn't provide. Through St. Francis House Social Services, John and Cheyenne were able to get clothing and diapers for the children, gas, and vouchers to find a pre-school.
"At St. Francis House, everybody is good people. Here we have stability and the support to make responsible decisions." Welcome to St. Francis House, Mann family. We're so glad you're here!