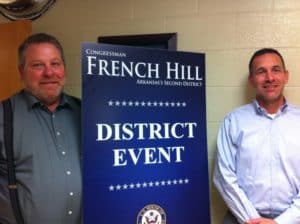 St. Francis House was pleased to welcome Thomas McNabb and David L. Carnahan, from the office of Congressman French Hill to our facility. They came to visit with our Veterans and offer their services to Veterans experiencing problems with federal government agencies.
"We can help Veterans resolve issues with the VA, Social Security, IRS, and immigration. For example, if a Veteran has applied for benefits and been denied, we can work with them to resolve the problem," said Mr. Carnahan. "And if it's outside our area, we can at least point you to the proper agency to get help," added Mr. McNabb.
"We are hoping to make monthly visits to St. Francis House to talk to the Veterans here and if we need to come even more often, we will."
In their first visit, they spoke with over 50% of our Veterans, all of whom who needed assistance. "And please tell anyone you know who is a Veteran and might need our help to call me at 501-358-3481. We're here to help them!" emphasized Mr. McNabb.
Thank you so much for your care and concern for our Veterans, and we hope to welcome you back on a regular basis!