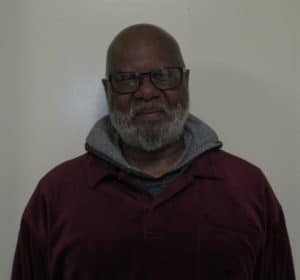 Ervin Powell served his country from 1971 to 1978 as an aviation maintenance administrator in the Navy including a deployment in Viet Nam.   He grew up in northern Florida and joined the Navy as soon as he graduated high school.
After completing his service, he went to college in San Diego receiving degrees in both construction inspection and construction technology and continued to work in that field until 2010. He has two children, one adult son from a previous marriage and a six-year-old son here in Little Rock.
"This is my second stay at St. Francis House. I began using some drugs while I was in the service and continued off and on. My previous wife had drug and alcohol issues as well, so that contributed to our break-up." Mr. Powell came back to Little Rock in 2010 while going through a divorce. "I just dropped out. I became homeless and spent about a month on the street. Then I lived with friends for a while and then went into a shelter. I was in the Ft. Roots' Homeless program when I got sick."  Mr. Powell was diagnosed with Guillain Barre Syndrome and spent over a month in a coma. He was in a rehabilitation program for three months where he had to learn to do everything from feeding himself to beginning to walk. "I was still in a wheelchair, and I remember one of the staff told me I'd have to go into a nursing home if I couldn't go up the three steps for my meal. I learned to get up those steps real fast!" After leaving St. Francis House in 2010, he continued his physical recovery, began a new relationship and had a son. Unfortunately, he also began using marijuana again. His girlfriend had very serious drug problems, and eventually, they split up. He moved around for a time and was doing well until problems with his disability benefits caused financial difficulties. "I came back to Little Rock for two reasons. To be sober again and to regain contact with my son. I pay child support, but I think it's important to do more than that."
Mr. Powell has some very clear goals for his stay at St. Francis House. "I want to maintain my sobriety, get visitation rights with my son, continue to rebuild my health and get my certification as a building inspector. I'm ready to enjoy life- get my own place and do my hobbies again. I love growing plants and picking pecans; I'd love to be able to ride a bike again, and I like things like visiting historical sites and collecting artifacts. "Mr. Powell, it sounds like you plan on being one very busy Veteran and we're glad you're beginning that at St. Francis House!