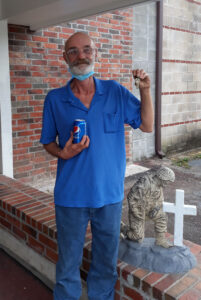 The mission of St. Francis House has always been to 'serve the underserved". Practically speaking, that often means we help those who fall through the cracks! In Jimmy Perry's case, that meant filling in when even all the Veterans services couldn't help!
You may remember Mr. Perry from an earlier Veterans' story. He was waiting on approval for his apartment and was on the road to graduating from St. Francis House. Unfortunately, he hit a snag. When Mr. Perry went to get his utilities, he found out he had an unpaid bill from 2018. At that time, he had a roommate who was taking care of paying that electric bill…or at least that was the arrangement. However, it turned out that his roommate was pocketing the money instead and had not paid the bill.
Until the back bill was paid in full, Mr. Perry could not lease another apartment. He tried the VA, Supportive Services for Veterans and Families, and several local agencies, but he did not qualify for assistance. That's when St. Francis House Social services stepped in. St. Francis House was able to work with Mr. Perry to get that bill paid, and he'll soon be moving into his new place!