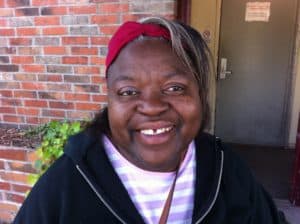 Pearly Marblie has been a long-time friend at St. Francis House. After twenty-five years in nursing, she retired on full disability. Since then, she comes to St. Francis House regularly for help with a variety of needs.
Ms. Marblie comes to visit monthly for food and clothing to supplement what she afford on her Disability. She is on Medicare but has a number of prescriptions that are not paid for by the program. Thanks to you, our prescription program helps her to obtain the medicines she needs. She also receives medical supplies when needed through our partnership with American Medical.
Most recently, Ms. Marblie found out that her Disability may be cut-off for several months because of possible over-payments. Though she is working with Legal Aid to find a way to prevent this, Ms. Marblie may need our help more than ever to keep up with her utilities.
The mission of St. Francis House is to provide a means of addressing the diverse, critical needs of the underserved, which are not adequately addressed by others in the community. Ms. Marblie is an example of those who fall through the gaps in community services. We value Ms. Marblie's friendship and are so glad we can help her meet those needs!