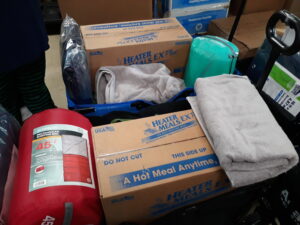 The American Red Cross brought these amazing wagons for our unsheltered neighbors! They include a tarp, a tent, a case of water, a flashlight, a towel, a box of meals, a hygiene kit, a can opener, a sleeping bag, and a blanket. The Community Resource staff has nicknamed them "Wonderful Wagons"!

Due to our partnership with TAP (Transportation Alliance Project), St. Francis House sees a lot of unsheltered clients. While the clients are here to get their bus pass, staff encourage them to get a snack bag, clean clothing, and even hygiene items when available.

SFH client, "Jeff", has had a rough life for many years. He comes in regularly to get food and clothing and our staff know him well. He was delighted to get one of these wagons.

So was "Debra". She had just recently arrived in Little Rock with nothing except the hope of finding work. The wagon gave her a way to keep going until she finds a job and more permanent shelter.

"Dwayne" recently lost his housing when his SSDI case was denied. While he is filing his appeal, he is staying in the woods with a tarp and 2 shopping carts. Another grateful recipient of a Wonderful Wagon!